Tuscany holidaymakers will find out in a short time that pizza is not necessarily one of the main food of Italy. The Tuscan cuisine is very natural, almost all foods can be found in the local flora and fauna or  gardens. Fresh fish, rabbit and chicken are the basics, as side dishes serve vegetables, herbs, dried fruits, mushrooms and of course the ubiquitous olive oil. Tuscan dishes are very different. Toasted bread slices with liver pate are just as popular as "Bistecca alla Fiorentina, a grilled meat from the rib of the Chianti cattle. Macaroni and pasta dishes are also enjoying great popularity. Of course, everywhere you can find many pizzerias that prepare tasty and traditional pizzas.
Traditional Tuscan food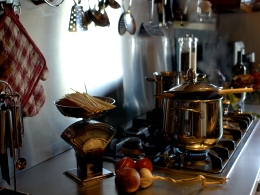 The traditional Tuscan dishes are very simple, because in earlier times the poor locals had to cope with simple foods. At that time, the bread was the most important food, that has been enjoyed in various forms. The most common types are flat bread, French bread and and Tuscan bread, an unsalted white bread, which initially may taste a little bit unusual. It is used in regional dishes, such as bread soup with vegetables (pappa), bread salad (panzanella) or Tuscan bean soup (ribollita).
Regional differences
In the various provinces of Tuscany, the  kitchen still reflects the history of the region. Florence, for instance, is famous for its Florentine steak. Also doughnuts (bomboloni) or fried cookies sprinkled with powdered sugar (cenci) are very popular. In the area of Pistoia you can enjoy "carcerato" a delicious chicken soup. In Pisa eel, cod and truffles form the traditional part of the menu. The typical dishes of the Maremma region, which indeed have been enriched over the time, still refletct the poverty of the former miners and cattle herders. The acqua cotta (literally boiled water) is the traditional dish of that region. The ingredients of this soup are bread, eggs, mushrooms, lettuce, oil, salt, feta cheese and water.
Farm holidays and cooking lessons in Tuscany
A very popular type of holiday in Tuscany are the so called farm holidays. The typical old stone farmhouses have been masterfully refurbished by the peasants, without interfering in the original architecture. Today antiquity,  innovation and modernity merge behind the old stone walls in complete harmony. Most farm buildings have a beautiful park with swimming pool, surrounded by cypresses, olive groves, vineyards and sunflower fields. This kind of vacation provides the guests  with all sorts of activities such as cooking lessons, horseback riding, hiking, golf, painting classes, wine tastings and visits to tourist attractions.
For more information:
Arianna & Friends S.r.l.
Via Mazzini, 71
56037 Peccioli – Pisa – Italy
Offices open from Monday through Friday from 9 am to 7 pm
Tel.: +39 0587 672088
Skype: holidayintuscany
Web: http://www.ariannandfriends.com
No Comments »
No comments yet.
RSS feed for comments on this post. TrackBack URL
Leave a comment
Related Post